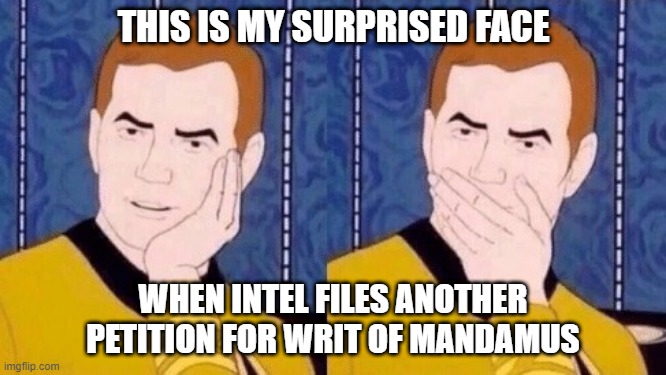 Surprise! Intel Files Another Petition for Writ of Mandamus Seeking Reversal of Latest Retransfer Order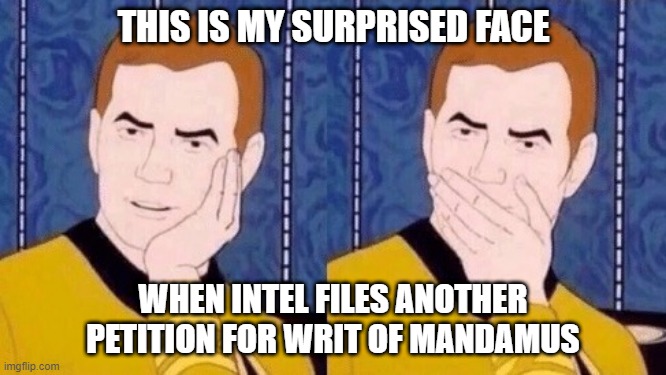 As anticipated, Intel has filed another petition for writ of mandamus challenging Judge Albright's Dec. 31 Order re-transferring the case from Austin back to Waco (see previous post about the first petition HERE).  Intel specifically asked the Federal Circuit to "reverse (rather than vacate) the latest retransfer order", a reference to the Circuit Court's Dec. 23 Order granting mandamus and vacating the first retransfer order (see previous post HERE summarizing the limitations of the opinion).
Intel's first argument has been presented a multitude of times in its earlier briefing in both the district court and Federal Circuit: that the facts underlying the initial decision to transfer the case from Waco to Austin in 2019 remain unchanged today.  While the pandemic was undoubtedly unforeseeable, Intel argues that it did not frustrate the original purpose for transfer to Austin and thus, the case cannot be transferred back to Waco on that basis.
Intel's second argument centers on the district court's 1404(a) analysis. This issue was not directly addressed by the Federal Circuit in the last mandamus proceeding because the district court did not base its original retransfer order (the subject of the first mandamus proceeding) on a renewed analysis of the 1404(a) convenience factors. Intel argues that the analysis in the most recent order applied the wrong legal standard and improperly shifted the burden to Intel.
The district court's decision to reset the trial date for next month gives the parties enough time to take the issue up with the Federal Circuit, but we can still expect another round of shortened briefing schedules and quick opinions to issue from the Federal Circuit.  We will keep you posted.
About
With over 50 years of combined experience with federal court practice in the Western District, our team boasts former federal clerks and outstanding litigators with unrivaled experience in local federal litigation. Our contributors are all located in the Waco office of Naman, Howell, Smith & Lee. With an office just blocks from the Waco courthouse, we have our finger on the pulse of the emerging patent litigation practice in the Waco Division of the Western District, and we want to share that expertise with you.
Recent Posts
Archives